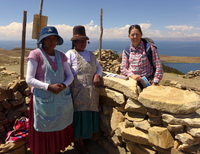 The island Isla del Sol located in the southern part of lake Titicaca at an elevation of 3800 meters above sea level. The island is divided in two parts – the north end the south community. We landed on the north part of the island near the village Challapampa. Challapampa bay is very big and beautiful, with clean calm blue water. There were several cafes on the beach where we had breakfast. The trail started from the beach near a small museum with ancient ceramics and bones in glass cases.
Then the surprises started. Near the museum stood a man who asked us for tickets to go on a trail, but the museum was free. We bought two tickets for 10 Soles and continued on our way. The trail went near a school, between houses and terraced fields. Near the school an old lady in traditional dresse checked our tickets and wished us good luck.
The path went to up and up to the south point of the island. In 30 minutes we came to ruin and we turned to the south of the island and the Yumani village.
The path goes over hills at 4000m asl. At time we met other tourists and local residents who sold some souvenirs. There were beautiful views around us, clear skys, light breezes and the amazing lake around the island. Halfway there we met another two lady's who were selling more tickets for the middle part of the island. It was our first surprise because nothing is on the maps of the island about any community there. We couldn't do nothing, we paid 15 Soles per person and continued on our way.
After 4 hours on the path we neared the end of our hike to Yumani. And there we met another man who was charging one more 5 Soles ticket to come into that part of the island. In all we had to pay 30 Soles per person for the whole hake. It's not a big deal, but it no way to avoid to take a money.